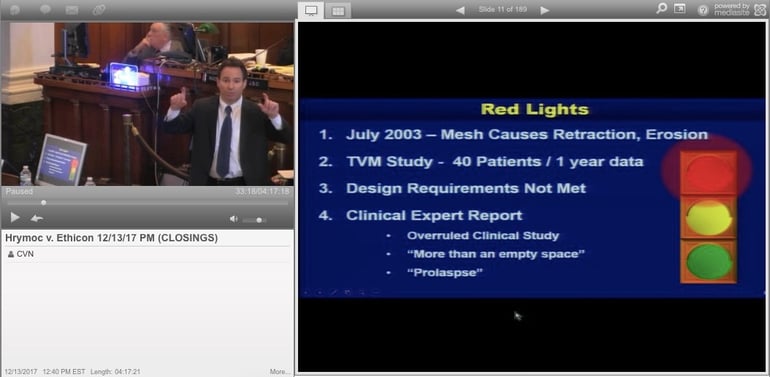 CVN screenshot of plaintiffs' attorney Adam Slater delivering his closing argument
Hackensack - A New Jersey state court jury smacked Johnson & Johnson's Ethicon unit with a $15 million verdict on Thursday in a lawsuit filed by a woman claiming the company's pelvic mesh implants were defectively designed and caused her severe chronic pain.
The Bergen County jury spent most of a day deliberating after hearing nearly three weeks of argument and testimony in just the second pelvic mesh-related lawsuit to go to trial in New Jersey out of nearly 9000 pending. Jurors awarded $4 million to plaintiff Elizabeth Hrymoc in compensatory damages and $1 million to her husband, Tadeusz, in addition to $10 million in punitive damages.
The full trial was webcast live gavel-to-gavel by Courtroom View Network.
Hrymoc, 71, sued Ethicon after having the Prolift and TVT-O brand mesh devices surgically implanted in 2008 to treat stress urinary incontinence and pelvic organ prolapse, a common condition in post-menopausal women in which the abdominal organs drop to a lower position than normal.
She claims the devices left her in near constant pain, and that despite undergoing multiple subsequent surgeries the mesh has not been fully removed, and that she is unable to have sex with her husband. Ethicon argued the products were not defectively designed and had helped thousands of women with conditions similar to Hrymoc's who would have otherwise required riskier more invasive surgery.
Although the jury found that Ethicon failed to provide adequate warning about the risks associated with the Prolift and TVT-O, they determined that Hrymoc's injuries were only caused by the Prolift.
Johnson & Johnson spokesperson Mindy Tinsley told CVN the company will appeal the verdict.
"We believe the evidence showed that the company appropriately informed surgeons of the pertinent complications and that the products were properly designed and studied," Tinsley wrote in an email.
Attorneys for the Hrymocs did not immediately respond to a request for comment.
Hrymoc's case is the first mesh trial in New Jersey since 2013, when an Atlantic County jury awarded $11.1 million to a woman implanted with another Ethicon device. Despite large scale settlements of mesh cases in both state and federal court, Thursday's verdict suggests Ethicon and other mesh manufacturers will continue to face jury trials, with the outcomes potentially playing a key role in the shaping of any future settlement agreements.
Another mesh trial involving manufacturer C.R. Bard Inc. is set for trial in Bergen County in late January.
Hrymoc and other women allegedly injured by mesh products claim they contain a chemical called polypropylene, which can react with human tissue and become stiff and brittle. They argue polypropylene mesh was used for decades to treat hernias, but that companies like Ethicon began pitching it to treat organ prolapse despite knowing it could injure vaginal tissue.
"There's a reason that Johnson & Johnson no longer sells the Prolift," Hrymoc's attorney Adam Slater of Mazie Slater Katz & Freeman told the jury during his closing argument, describing how the company eventually eventually pulled the product from the market in 2012.
The U.S. Food & Drug Administration signed off on mesh implants as an approved treatment for pelvic organ prolapse in 2002, however since then thousands of women throughout the country filed lawsuits claiming they suffered debilitating side effects from the mesh. In 2016 the FDA redesigned pelvic mesh implantation as a high-risk procedure
Slater argued that Ethicon showed "willful and wanton" disregard for patient safety by failing to adequately warn them about the potential risks associated with implanting polypropylene mesh in the vagina, despite knowing about multiple studies that supposedly showed mesh implants could contract and cause tissue erosion after implantation.
"That was a red light," Slater said, "They should have stopped [and discontinued the research], but they kept going."
In his closing on behalf of Ethicon, William Gage of Butler Snow, argued the company extensively tested its mesh products before bringing them to market, and that any potential side effects were fully disclosed to patients and their doctors.
He suggested that Hrymoc's gynecologist, Dr. Mark Mokrzycki, knew about the risks associated with mesh implants but didn't adequately convey them to his patient. Mokrzycki testified during the trial that if he knew in 2008 what he knows now about mesh implants, that he never would have endorsed their use.
"If Dr. Mokrzycki had warned Mrs. Hrymoc about the risks of Prolift, we would not be here today," Gage told the jury.
Gage argued the jury should not award punitive damages, because Ethicon's testing of polypropylene mesh proved the company didn't act with malicious intent.
The trial took place before Judge Rachelle Harz. The full proceedings are available gavel-to-gavel for CVN subscribers, along with previous pelvic mesh trials in California, Texas, Missouri, Massachusetts and New Jersey.
The case is captioned Elizabeth Hrymoc and Tadeusz Hrymoc v. Ethicon Inc., et al. case number L-13686-14 in Bergen County Superior Court.
E-mail David Siegel at dsiegel@cvn.com