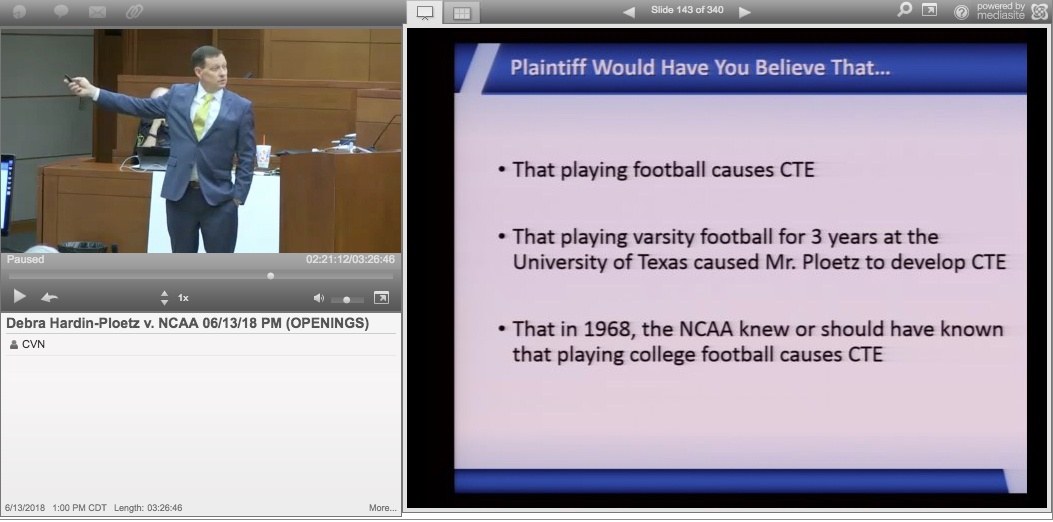 CVN screenshot of defense attorney Chris Watt delivering his opening statement
Dallas - The NCAA reached a settlement on Friday in Texas state court with the widow of a college football player who suffered from a brain disease linked to repeated concussions, bringing the much anticipated first-in-the-nation trial to an abrupt end.
Judge Kenneth Molberg dismissed the jury three days after opening statements took place in what was the first trial ever in a lawsuit seeking to hold the NCAA responsible for a college football player's chronic traumatic encephalopathy, or CTE.
Terms of the settlement were not disclosed in court, and representatives for the parties were not immediately available.
CVN recorded and webcast the proceedings, and they are available to subscribers as part of CVN's one-of-a-kind online trial video archive.
Plaintiff Debra Hardin-Ploetz claimed the NCAA knew as far back as 1906 that repeated head impacts could cause long-term neurological damage but took no action to adequately protect players or warn them of the risks. Her husband, Greg Ploetz, played for the University of Texas in the late 1960's and early 1970's. He was posthumously diagnosed with severe CTE after suffering from worsening neurological problems for years.
The NCAA argued that full-contact football is an inherently dangerous sport, and that Ploetz voluntarily chose to participate in a high-risk activity.
The trial was scheduled to last up to three weeks.
Hardin-Ploetz is represented by Shrader & Associates LLP, Baron and Blue, and Goldberg Persky & White PC.
The NCAA is represented by Reed Smith LLP, Bryan Cave LLP and Levinger PC.
The case is captioned Debra M. Hardin-Ploetz, individually and on behalf of the Estate of Gregory Ploetz, deceased v. National Collegiate Athletic Association, docket number DC-17-00676.
E-mail David Siegel at dsiegel@cvn.com