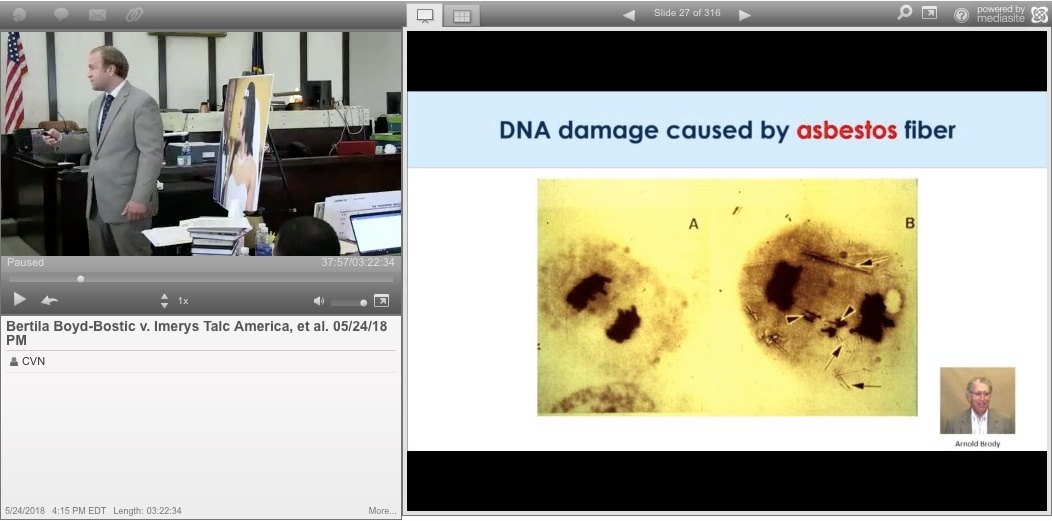 CVN screenshot of plaintiff attorney Chris Swett of Motley Rice delivering his closing argument
Darlington, SC - A South Carolina state court judge declared a mistrial on Friday in the fourth lawsuit to go to trial over the alleged presence of asbestos in Johnson & Johnson's talc-based products.
Retired Chief Justice of the South Carolina Supreme Court Jean Toal made the decision after the 12-member jury informed her they could only make a determination regarding drug store chain Rite Aid, the other defendant in the case. Jurors deliberated for most of a day after closing arguments concluded Thursday in the two-week trial, but they could not reach a unanimous decision regarding J&J's potential liability and claimed to be hopelessly deadlocked.
The trial, the first to include Rite Aid as a defendant in a cosmetic talc case, was webcast and recorded gavel-to-gavel by Courtroom View Network.
J&J's talc supplier, Imerys Talc America, reached a settlement with plaintiff Antoine Bostic mid-trial. Bostic's wife, attorney Bertila Boyd-Boystic, died at the age of 30 after contracting mesothelioma allegedly caused by inhaling asbestos in talc powder.
The mistrial comes a day after a California jury hit J&J with a $25.75 million verdict in another lawsuit alleging that asbestos in talc-based products like Johnson's Baby Powder and Shower to Shower can cause mesothelioma. A New Jersey jury returned a $117 million verdict in a similar case in April, and the first such case to go to trial ended in a defense verdict last year.
The New Jersey trial and initial California trial were both recorded by CVN.
Opening statements in another talc mesothelioma trial involving J&J are set for Tuesday in Los Angeles County Superior Court. Jury selection is also underway in a cosmetic talc lawsuit against Colgate in San Francisco.
Bostic's attorneys from the firm Motley Rice LLC told CVN they looked forward to retrying the case "at the earliest opportunity."
"We continue to believe that the daily use of talcum powder on Bertila from birth led to her death," said Chris Swett, Nathan Finch and Marlon Kimpson in a joint statement.
Johnson & Johnson spokesperson Carol Goodrich told CVN the company is disappointed the jury could not reach a unanimous verdict in their favor.
"The talc in Johnson's Baby Powder does not contain asbestos which is supported by more than 50 years of independent, non-litigation driven scientific evaluations," she said.
An attorney for Rite Aid did not immediately respond to a request for comment.
The case is captioned Antoine Bostic, individually and as Personal Representative of the Estate of Bertila Delora Boyd-Bostic v. 3M Company, et al., case number 17-CP-16-0400, in the Court of Common Pleas for the County of Darlington.
Email David Siegel at dsiegel@cvn.com