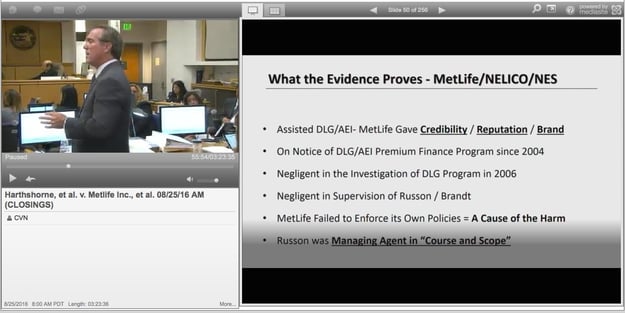 Plaintiff's attorney Richard Donahoo delivers his closing argument. Click here to see video from the trial.
Los Angeles - A California state court jury awarded over $15 million on Wednesday to a grandmother who lost her life savings after a broker selling MetLife insurance encouraged her investment in a $200 million Ponzi scheme to finance her policies, in the first of nearly 100 potential similar cases to go to trial.
A unanimous 12-member jury returned a verdict in favor of plaintiff Christine Ramirez, 75, following an 8-week trial during which her attorneys claimed MetLife and subsidiaries New England Life Insurance Co. and New England Securities looked the other way while brokers sold investors on a bogus fund called the Diversified Lending Group. Government regulators exposed DLG as a scam operation in 2009, and its founder Bruce Friedman later died in a French prison fighting extradition to the United States on related criminal charges.
Ramirez lost $239,890, almost the entirety of her life savings, after believing her insurance broker's pitch that DLG's supposedly guaranteed 12 percent annual return rates could help pay for her MetLife policies. In addition to recouping her original investment, jurors hit MetLife with $10 million in punitive damages and $2.5 million each for NELICO and NES. Tony Russon, a former MetLife managing partner who supposedly encouraged brokers and agents to sell investors on DLG, was ordered to pay $330,000.
"The evidence we presented in this case clearly showed that MetLife was aware that the branch office run by Tony Russon was not following MetLife's own policies and procedures, and that they failed to correct this dangerous behavior, " Ramirez's attorney Thomas Foley said in a statement. "If they had, Ms. Ramirez and hundreds of others like her would not have been victimized by this investment fraud."
A MetLife spokesman said the company is disappointed and plans to appeal. MetLife's attorneys had argued throughout the trial that Ramirez was never a client of the insurer, that they had no formal relationship with DLG, and that the broker Ramirez worked with was a non-employee contractor that MetLife had no duty to supervise.
The full trial was webcast live and recorded gavel-to-gavel by Courtroom View Network.
Jurors heard claims that Friedman was first introduced to MetLife's agents by Russon in 2004, despite Friedman already having a criminal record. At the time Friedman already owed Russon nearly $750,000 from an unrelated business arrangement, and Friedman had promised Russon half of any future income to help pay off his debt. Russon supposedly distributed DLG-themed "welcome packets" to agents and brokers.
However MetLife's attorney Sidney Kanazawa maintained that all of this activity was beyond the scope of the insurer's responsibility.
"What caused this loss is that Mr. Friedman was a criminal and he stole money from a lot of people, including Ms. Ramirez," Kanazawa said during his closing argument. "[MetLife] didn't even know that this entire transaction was going on."
Wednesday's verdict could put plaintiffs in future cases in a much stronger negotiating position heading into potential settlement talks. Ramirez and 97 other investors originally sued MetLife as part of a class action, but in 2015 a California judge said that the claims needed to be considered on an individual basis. She then sued MetLife for allegedly aiding and abetting violation of California securities laws, negligence, and aiding and abetting deceit and financial elder abuse.
Ramirez's case was the first to go before a jury, having received fast-track status due to her fighting late-stage breast cancer.
"I am so grateful to the jurors for seeing through MetLife's finger-pointing argument that they weren't responsible for the loss of my retirement savings," Ramirez said in a statement released by her attorneys. "I am looking forward to the other investors in DLG getting their justice as well."
The next trial is scheduled for November, according to court records.
Ramirez is represented by Richard Donahoo of Donahoo & Associates PC and Thomas Foley of Foley Bezek Behle & Curtis LLP.
MetLife is represented by Sidney Kanazawa and Cheryl Haas of McGuireWoods LLP. Russon and Russon Financial are represented by Ted Peters of Edgerton & Weaver LLP.
The case is Hartshorne et al. v. MetLife Inc. et al., case number BC576608, in the Superior Court of the State of California, County of Los Angeles.
E-mail David Siegel at dsiegel@cvn.com