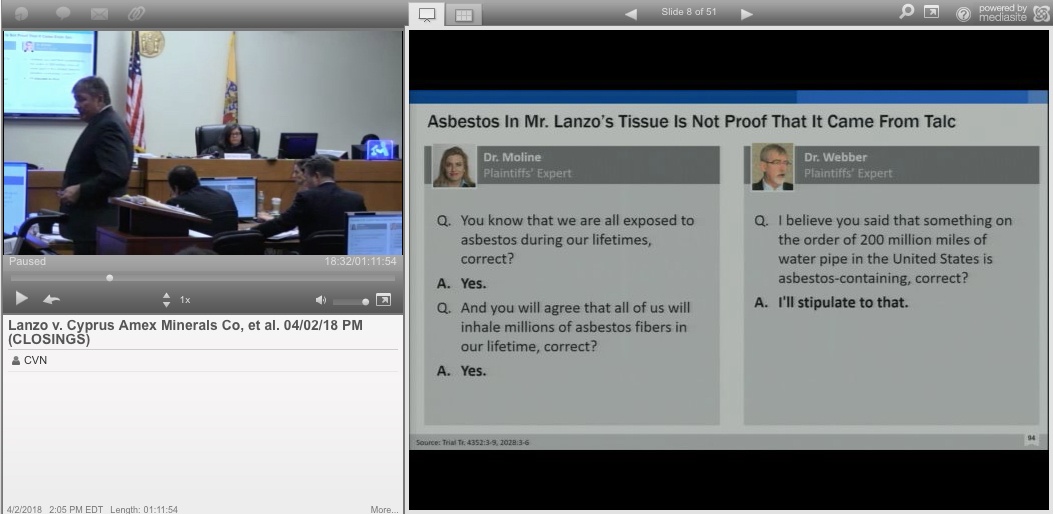 CVN screenshot of J&J attorney Mike Brock delivering his closing argument
New Brunswick - A New Jersey state court jury awarded $37 million on Thursday to an investment banker stricken with mesothelioma and his wife who claim the cancer was caused by inhaling asbestos in Johnson & Johnson's talc-containing hygiene products, in the first such case to go to trial against the company in its home state.
The Middlesex County jury awarded $30 million to Stephen Lanzo, 46, and $7 million to his wife Kendra, allocating 70 percent of the liability for his illness to J&J and 30 percent to their talc supplier, Imerys. A second phase of the trial to determine punitive damages will begin on Tuesday, April 10.
Courtroom View Network has been providing live gavel-to-gavel coverage of the proceedings.
The Lanzos' case is just the second to go to trial over claims that asbestos supposedly present in J&J's talc products caused mesothelioma, a fatal cancer that affects tissue lining around the lungs. A California state court jury returned a defense verdict last year in the only other such case to go to trial.
A third J&J talc/mesothelioma trial is scheduled to begin in May in South Carolina state court.
Lanzo is also the first male plaintiff in a talc-related trial involving J&J. The plaintiff in the prior California case was female, and the other J&J talc trials to date involved women who claimed talc used on the genitals could cause ovarian cancer. Lanzo alleged that 30 years of inhaling products like Baby Powder and Shower to Shower, and the asbestos it supposedly contained, caused his mesothelioma.
J&J spokesperson Carol Goodrich told CVN the company is disappointed with the verdict.
"The jury has further deliberations to conduct in this trial and we will reserve additional comment until the case is fully completed," she said.
Imerys spokesperson Gwen Myers told CVN the company will appeal the jury's decision, noting that studies of miners who were exposed to talc on a daily basis didn't show any link between the mineral and mesothelioma.
"Imerys follows all FDA and other regulatory guidelines and utilizes rigorous testing to ensure that our talc meets the highest quality standards, and we are just as confident in the safety of our products as ever," Myers said.
Attorneys for the Lanzos did not immediately respond to a request for comment.
Throughout a lengthy trial that began in late January, attorneys for the Lanzos accused J&J of withholding information from consumers about the health risks of asbestos in its talc-based products for nearly half a century.
During his closing argument, Moshe Maimon of Levy Konigsberg LLP told jurors that J&J knew as far back as 1969 that its talc products contained asbestos, citing a confidential internal memo from a J&J research scientist.
"J&J knew almost 49 years ago there was asbestos in their talc,'' Maimon said.
J&J attorney Michael Brock of Kirkland & Ellis LLP told jurors that the plaintiffs based their case on debunked studies, and that the company subjected its talc products to rigorous testing to confirm they did not contain asbestos.
Brock accused Lanzo's attorneys of "twisting themselves into pretzels" to link talc exposure to his mesothelioma, arguing that Lanzo was exposed to asbestos from a variety of sources, including pipes in his childhood home, and from asbestos-abatement projects in the school he attended.
Judge Ana Viscomi is presiding over the trial.
In addition to streaming the upcoming punitive phase, CVN recorded the full trial from the start of opening statements, in addition to numerous other talc trials in California, Missouri and Florida. Video of all of these trials and many more is available to CVN subscribers, by signing up for access to CVN's one-of-a-kind online trial video archive.
The case is captioned Lanzo v. Cyprus Amex Minerals Co., Docket No. L00738516
Email David Siegel at dsiegel@cvn.com