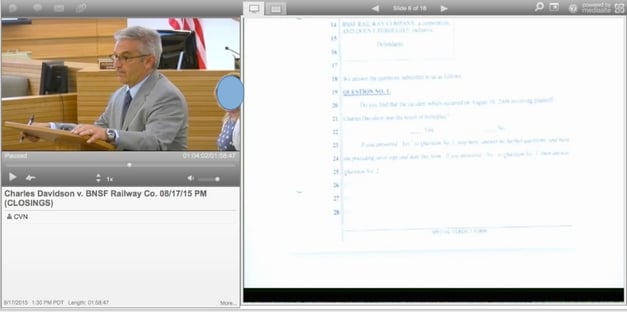 Defense attorney Anthony Sonnett walks jurors through how they should complete the verdict form in a personal injury trial against BNSF Railway Co. Click here to see video from the trial. Click here for a copy of the complaint.
San Bernardino — Berkshire Hathaway Inc.-owned freight rail giant BNSF Railway Co. was cleared by a state court jury on Tuesday in a personal injury lawsuit filed by a fireman who was pinned against a guardrail by a utility cart during a late-night shift in a California train yard.
The unanimous 12-member jury reached a verdict after less than a full day of deliberations following a trial that began August 12, finding that plaintiff Charles Davidson's co-worker Jose Avalos was engaged in horseplay when he struck Davidson with a cart he was driving in 2009, according to a Courtroom View Network webcast of the trial. (Click here to see video from the trial. Click here for a copy of the complaint.)
Davidson sued BNSF under the Federal Employees Liability Act, a statute passed by Congress in 1908 to compensate injured railway workers. However under the statute railway operators cannot be held liable for employee misconduct like horseplay. Davidson initially claimed to suffer knee injuries after Avalos mistakenly drove the cart forward instead of in reverse and struck him, but later stated during deposition testimony that Avalos was chasing another cart in the yard.
"A railroad has no duty to protect an employee from the horseplay of another employee," BNSF attorney Anthony Sonnett of litigation powerhouse Lewis Brisbois Bisgaard & Smith LLP told the jury during his closing argument.
The firepower of the plaintiff and defendant's respective legal teams seemed fairly lopsided on paper. Davidson was represented by a solo practicioner who tried the case without co-counsel, while Sonnett is vice-chair of Lewis Brisbois' products liability practice group. BNSF was also represented by James Brooks, a Lewis Brisbois partner specializing in railroad litigation who is a member of the firm's 68-member transportation practice group.
Sonnett told jurors that Davidson, who was 28 at the time of the accident, lied in his initial accident report and complaint against BNSF, when he claimed Avalos accidentally drove the supply vehicle known as a "honey wagon" forward. In his deposition Davidson said he made that story up to protect his friend Avalos, but that faced with the prospect of testifying under oath he had to disclose what really happened, and that Avalos was actually trying to hit another cart when he struck Davidson.
However Davidson later claimed in sworn declarations that he had no "personal knowledge" Avalos was engaged in horseplay at the time of the incident, and Davidson's attorney Don Burns told jurors during his closing argument that Avalos struck Davidson while trying to park the honey wagon. Burns argued that Avalos was acting as a BNSF employee at the time, and that under FELA the company is responsible for his actions.
"When he was parking in front of the yellow rail, that is exactly what he was required to do to fulfill his job responsibilities that night," Burns said. "That's not horseplay, that's not fooling around."
In response Sonnett repeatedly called Davidson's credibility into question during his closing, suggesting that he and his attorney were trying to "slip one by" the jury.
"The only one who ever says that Mr. Avalos was parking this car is the plaintiff's attorney," Sonnett said. "There is not one statement or implication from anyone that was a witness to this incident that that's what was appending at the time of this incident."
He suggested that the version of events in Davidson's sworn deposition testimony made the most sense, and that Avalos had been engaged in conduct outside the scope of BNSF's responsibilty.
During his rebuttal Burns argued that even if Avalos was engaged in horseplay at some point that night, that at the moment he struck Davidson he was parking the honey wagon, which would still make BNSF liable for Davidson's injuries.
"What he had done earlier I don't care. What he does later I don't care," Burns told the jury. "I'm focused on what he was doing the instant he hit Chuck Davidson."
The trial was bifurcated by Judge Donna Garza and jurors only considered the issue of whether or not Avalos was engaged in horseplay, so they never heard any argument related to the specific extent of Davidson's injuries or damages.
"This was a relatively simple case," Sonnett told CVN. "Although there was conflicting evidence on the issue, the most credible evidence presented during trial was that horseplay was involved."
Burns did not respond to a request for comment.
The full trial was recorded and webcast gavel-to-gavel, and is available for viewing in CVN's online video archive.
The case is Charles R. Davidson III v. BNSF Railway Co., case number CIVBS1200419, in the Superior Court of the State of California for San Bernardino County.
E-mail David Siegel at dsiegel@cvn.com
Click here to check out more California trials in CVN's one-of-a-kind online video archive