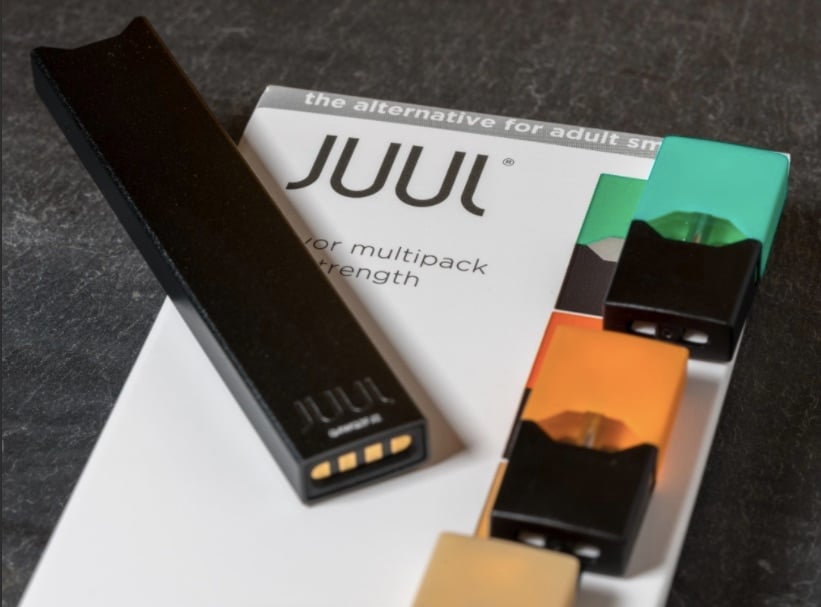 Stock image of a Juul electronic cigarette
Durham, NC - A North Carolina state court judge will hold a final pre-trial motion hearing Monday in a closely-watched case accusing top e-cigarette manufacturer Juul Labs Inc. of engaging in deceptive marketing to minors, and the proceedings will be webcast gavel-to-gavel by Courtroom View Network.
Durham County Superior Court Judge Orlando Hudson will consider dispositive motions at Monday's hearing that could determine whether or not a planned July 12 trial takes place in the 2019 lawsuit filed by North Carolina Attorney General Josh Stein - the first such lawsuit in the country filed by a state AG over Juul's marketing of its popular electronic nicotine products.
Stein's lawsuit alleges that Juul violated the state's Unfair and Deceptive Trade Practices Act by downplaying the addictive nature and potency of its nicotine products, and that the company's marketing practices lead to a massive increase of nicotine use among minors.
Juul, which sells the top-selling electronic cigarette in the country, denies that their marketing intentionally targeted minors and maintains that electronic cigarettes offer a healthier alternative to adults than traditional smoking.
The full hearing, scheduled to begin at 10am Eastern, will viewable live in real-time and on-demand upon the hearing's conclusion via CVN.
The first-of-its-kind North Carolina state court case has drawn nationwide scrutiny due to its potential impact on consolidated federal multi-district litigation involving Juul's e-cigs.
Hundreds of lawsuits stemming from Juul's allegedly deceptive marketing practices are consolidated in California federal court before U.S. District Judge William H. Orrick, with possible trial dates set for 2022.
Any previously confidential information that becomes part of the public record during next month's potential trial in North Carolina could have a substantial impact on the resolution of those pending federal bellwether trials and a body of at least 900 cases that is expected to increase.
Juul's e-cigs, which resemble small USB drives, first hit the market in 2015. The discreet devices quickly became popular with teens, due to their being easy to hide and producing a vapor without a noticeable smell.
In 2019 when NC AG Stein sued Juul they held 74.6 percent of the market share for e-cig sales in the United States, putting the extremely young company on a competitive footing even with large tobacco companies.
Juul is represented by attorneys from Kirkland & Ellis, McGuireWoodsLLP and the Gunster law firm.
The case is captioned Joshua Stein v. Juul Labs Inc., case number 19-CV-002885 in Durham County Superior Court, North Carolina.
E-mail David Siegel at dsiegel@cvn.com