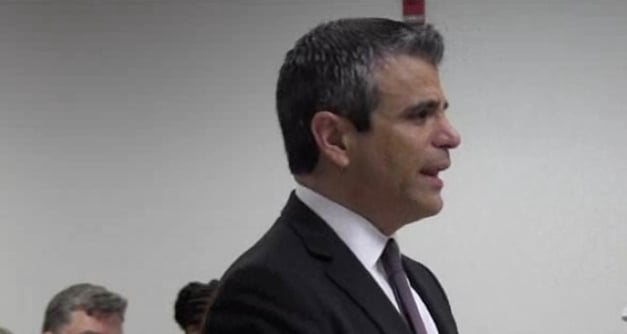 Sumner Redstone's attorney Robert Klieger argues that a lawsuit challenging his client's mental competency should be dismissed. Click here to see video from the hearing.
Canton - Attorneys for Sumner Redstone and daughter Shari Redstone asked a Massachusetts probate judge on Thursday to throw out a lawsuit claiming the ailing 93-year-old media mogul is mentally incompetent, in a case that could determine control of major companies like Viacom, CBS Corp. and Paramount.
The Redstones' attorneys argued in a packed-to-capacity courtroom that Judge George Phelan should dismiss the lawsuit filed by Viacom chief executive Philippe Dauman and longtime director George Abrams, who Sumner recently removed from the board of National Amusements, the family investment vehicle used to control the Redstone media empire. Dauman and Abrams allege Sumner is being unduly influenced by Shari, and that he should be subjected to an immediate medical examination.
The full hearing was recorded and webcast gavel-to-gavel by Courtroom View Network.
Sumner's attorney Robert Klieger of Hueston Hennigan LLP and Elizabeth Burnett of Mintz Levin Cohn Ferris Glovsky and Popeo PC claimed that although Sumner has a severe speech impediment, he is still capable of expressing his wishes, and that he removed Dauman and Abrams due to Viacom's falling stock price. They told Judge Phelan that any litigation to determine Sumner's competency should take place in California where he currently resides, and where he would have a right to a jury trial that Massachusetts probate law doesn't allow.
Burnett blasted Dauman's and Abrams' claims as being "chock full of conspiracy theory" and maintained that despite being estranged from her father for many years, Shari and Sumner have put past business disagreements behind them. After Sumner threw his longtime companion Manuela Herzer out of his mansion last Fall, he reconnected with Shari.
Shari then allegedly ordered the removal of Sumner's granddaughter Sheryn from his mansion. Sheryn has since claimed that Sumner is essentially a prisoner in his Beverly Hills estate, and that Shari has assumed near total control of his life. Sumner later ousted Dauman and Abrams from the National Amusements board - with Shari likely to influence their replacements - despite both claiming that went against wishes Sumner had expressed to the two trusted executives for decades.
Burnett argued that Sumner had full authority to make those decisions, noting that a Los Angeles judge who dismissed a lawsuit filed by Herzer had observed video of Sumner giving deposition testimony and described him as "very alert with strong convictions." Klieger described Sumner as being difficult to understand on the phone but attentive in person and personally engaged in the ongoing litigation.
Even if Shari had influence over her father's business decisions, Burnett claimed that didn't amount to undue influence. She described Shari as a trusted advisor who enjoyed a close relationship with Sumner. Sumner owns 80 percent of National Amusements, and Shari owns the remaining 20 percent.
"There's nothing undue about Shari discussing business matters with her father," Burnett said. "There's nothing undue with Shari providing advice, companionship and even influence."
Dauman's attorney Leslie Fagan of Paul Weiss Rifkind Wharton & Garrison LLP strongly disagreed with Burnett's description of the relationship, accusing Shari of attempting to use Sumner's failing health as a chance to "seize an opportunity long denied to her." Fagan pointed to court filings in Herzer's case that described Sumner as being unable to speak, unable to read, being fed through a feeding tube and requiring 24-hour nursing care. He said Sumner isn't able to understand what's happening around him, let alone able to make complex business decisions.
Fagan described how Sumner had worked closely with the same attorneys for many years, but that shortly after Shari re-entered his life Sumner suddenly retained new counsel who began making changes to his trust.
"Are we to believe that Sumner Redstone in his condition searched Martindale-Hubbell for new lawyers," Fagan asked. "In a matter of months and weeks a decades old management plan has been upended."
Keryn's attorney Pierce O'Donnell of Greenberg Glusker tore into Shari, describing the removal of Dauman and Abrams from the National Amusements board as part of a "long-planned quest."
"Shari has an unquenchable thirst for power," O'Donnell said.
He described legal documents purportedly signed by Sumner in recent months that include illegible scrawls that do not at all resemble Sumner's signature on previous documents. One supposed signature appeared to be nothing more than a single line.
"I don't know if Shari holds the pen and they move the paper under it," O'Donnell said. "That flat line signature is a tragically apt metaphor for Mr. Redstone's capacity."
Besides the Massachusetts case, related litigation is also playing out in the Delaware Court of Chancery and in Los Angeles Probate court. Both cases are still in the preliminary stages, with the judge in the Delaware action stating during a recent hearing that he wants to see if Judge Phelan orders the Massachusetts case to be expedited in order to avoid redundant discovery.
Judge Phelan did not indicate when he would issue a decision, noting that the motion to dismiss is nearly seven inches thick.
"I have a lot to digest here," he said.
The case is Dauman, et al. v. Redstone, et al., case number 16-E0020 in Norfolk County Probate and Family Court.
E-mail David Siegel at dsiegel@cvn.com.