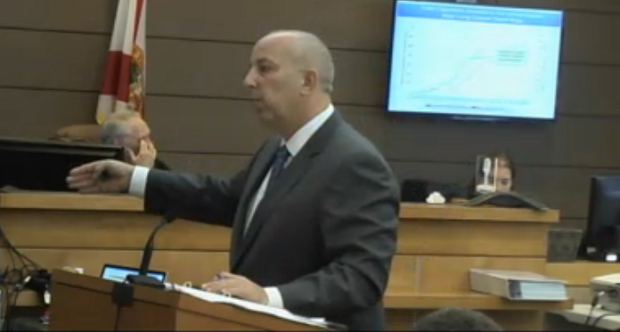 Gary Paige delivers his opening statement.
---
Sebring, FL—Attorneys Friday battled over what caused a Florida woman to smoke for six decades and continue smoking even as she needed supplemental oxygen for her respiratory disease, as trial opened against R.J. Reynolds over its role in the woman's death. Durrance v. R.J. Reynolds, 11-26-GCS.
Totsie Fleming, 77, who worked for years as the secretary to the Avon Park, Florida Chief of Police, died in 2009 of chronic obstructive pulmonary disease, after smoking at least a pack of cigarettes a day for nearly 60 years. Her family claims R.J. Reynolds, makers of the Winston cigarettes Fleming smoked, caused her death by hiding the dangers and addictiveness of their product throughout much of the 20th century.
During Friday's openings, Gordon & Doner's Gary Paige, representing Fleming's family, walked jurors through a decades-long plan by the nation's largest tobacco companies to deny the growing weight of scientific evidence that smoking was dangerous and addictive. "They created doubt and confusion and they reassured the public. They told the public, 'Your health is a priority. We promise you, we are looking into it,'" Paige said, noting that tobacco manufacturers were aware all along of smoking's dangers.
As part of the scheme, Paige said tobacco companies created products such as filtered cigarettes, like the Winstons Fleming smoked, that they marketed as safer to keep concerned smokers hooked. But Paige said, "It's business as usual, people keep smoking. People keep getting sick, aand people keep dying. And the evidence will be that they kept making money."
Paige described Fleming as a smoker duped by tobacco marketing to smoke until she became so addicted to cigarettes that she failed in several quit attempts and continued smoking even while using oxygen for her respiratory disease. "Just because you want to quit [smoking] or try to quit doesn't always translate into being successful," Paige said, telling jurors Fleming quit for good around 2007.
The case is one of thounsads that stem from Engle v. Liggett Group Inc., a 1994 Florida state court class-action lawsuit against Reynolds and the nation's other tobacco companies, in which jurors found for the plaintiffs. The state's supreme court later decertified the class, but ruled Engle progeny cases may be tried individually. Plaintiffs are entitled to the benefit of the jury's findings in the original verdict, including the determination that tobacco companies placed a dangerous, addictive product on the market and hid the dangers of smoking, if they prove the smoker at the heart of a case suffered from nicotine addiction that was the legal cause of a smoking-related disease.
However, the defense argued Fleming chose to smoke and was able to quit when she was truly motivated. During Friday's openings, Jones Day's Kevin Boyce told jurors Fleming did not try to stop until she had been smoking at least 40 years. "You're going to learn, when Mrs. Fleming wanted to she could control her smoking," Boyce said. "When you go 40 years of smoking without even trying to stp? You're the only legal cause of that smoking."
Boyce noted Fleming quit for 30 days in 1992, long enough, he said, for nicotine to leave her system and her body to pass peak withdrawal, before she resumed smoking. He added that medical documents 12 years later, long after her COPD diagnosis, describe that she "chose" not to reach the goal of quitting smoking. "She has access to countless pulmonologists, nurses, and medical professionals and she's not asking them for help," Boyce said.
Trial in the case is expected to last through the end of next week.
Email Arlin Crisco at acrisco@cvn.com.
Related information
Gordon & Doner's Gary Paige represents the plaintiff.
Jones Day's Kevin Boyce represents R.J. Reynolds.
Watch the trial live and on demand.
Not a subscriber?
Learn more about CVN's unrivaled tobacco litigation library.