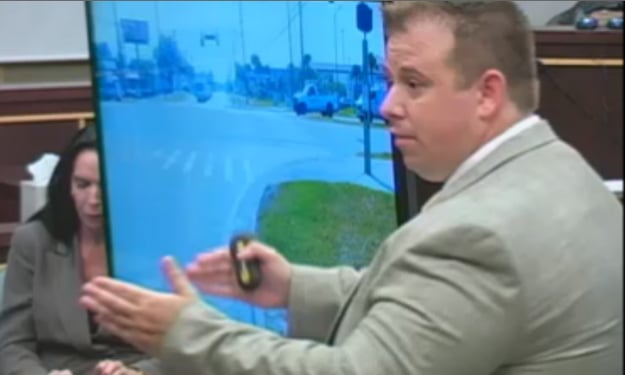 Daniel Smith delivers his opening statement at trial against Waste Services of Florida, whose 15-ton truck struck bicyclist, Thomas Truong, severely injuring him.
---
Orlando, FL—A host of driver errors caused a 15-ton truck to hit a bicyclist, severely injuring him and putting the future of one of his legs in jeopardy, lawyers for the cyclist claimed as trial opened Tuesday against the truck driver and waste company that employed him. Truong v. Waste Services of Florida, 2013-CA-00353.
Thomas Truong was hit by a Waste Services of Florida truck driven by William Bocker, as Bocker's vehicle turned right onto Orlando's John Young Parkway in 2012. Truong, who suffered severe hand and leg injuries in the accident, developed antibiotic-resistant infections and spent more than 200 days in the hospital since the collision.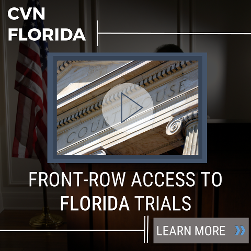 Truong, who has incurred more than $1.3 million in medical expenses alone, may also need his left leg amputated, The Coye Law Firm's Wade Coye told jurors Tuesday.
"If [Bocker] had checked his mirrors, not been so tight to the curb, and not been driving at an unsafe speed when he turned, we wouldn't be here today," The Coye Law Firm's Daniel Smith said.
Smith walked jurors through his theory of the wreck, claiming evidence would show Bocker's turn broke a variety of Waste Services' safety guidelines. "These aren't my rules," Smith told jurors.
Smith said Bocker went more than a minute without checking his side mirrors as he idled at an intersection, and failed to notice Truong's approach on his bicycle as Bocker made too sharp a turn, too quickly. "The back wheels continued to get closer and closer to Mr. Truong until [Bocker] ran him over," Smith said.
But the defense argues Truong caused the accident by dangerously trying to pass the truck and cross the intersection. During Tuesday's openings, Rissman Barrett's Richard Womble, representing Bocker and Waste Services' successor ,Waste Connection, told jurors the trash truck's turn signal was on, but Truong tried to pass the truck anyway. "[Truong] was trying to go straight across the intersection in front of a turning, 15-foot-tall, 34-feet-long truck," Womble said. "Who [in this collision] is paying attention?"
Womble said evidence, including a video of the moments surrounding the collision, would prove Bocker complied with safety regulations to ensure he remained in his lane while making the turn. "We anticipate the testimony is the way Mr. Bocker took that turn is entirely correct," Womble said. "He was not to swing out way wide. He was supposed to stay in his lane of travel."
Womble contended Bocker wasn't able to see Truong because of the bicycle's position beside the truck. By contrast, Womble told jurors "Mr. Truong... had the best opportunity to see the truck, to stop, to yield, and to avoid this accident."
Trial is expected to last through next week.
Email Arlin Crisco at acrisco@cvn.com.
Related information:
Daniel Smith and Wade Coye, of the Coye Law Firm, represent Thomas Truong.
Richard Womble, of Rissman Barrett Hurt Donahue McClain & Mangan, P.A., represents William Bocker and Waste Connection, formerly Waste Services of Florida.
Not a subscriber?
Learn how you can watch the biggest trials and best attorneys in Florida, and across the country.