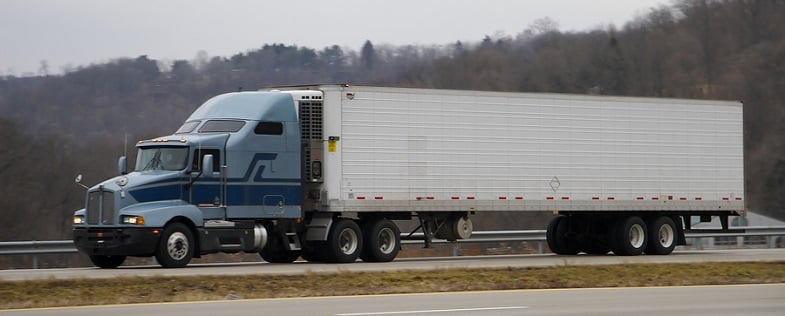 stock image of a semi-trailer truck
Pomona, CA - A California state court jury heard opening statements Wednesday in a wrongful death lawsuit accusing the driver of a big rig truck of illegally parking on the side of a freeway to urinate, resulting in a high-speed crash that killed him and a passenger in an oncoming vehicle.
Plaintiff Karen Garcia sued trucking company Tri-Modal Distribution Services Inc. following the 2013 accident that killed her husband, Jose Garcia. Garcia, then 25, was riding in the passenger seat of a box-truck that slammed into the back of the Tri-Modal truck, which was parked on the paved shoulder of the transition lane between the SR-60 and SR-71 freeways in Pomona.
Garcia's attorney, Steve Vartazarian of The Vartazarian Law Firm, told jurors during his opening statement that the deceased Tri-Modal driver, Jorge Garcia, caused the accident by illegally parking his truck on the side of a busy freeway. Tri-Modal maintains their driver acted properly after becoming aware of a mechanical problem with his truck.
The full trial is being webcast gavel-to-gavel by Courtroom View Network.
Vartazarian didn't ask for a specific amount of damages in his opening statement, but stated in court filings he would seek $1.6 million in economic damages and unspecified noneconomic damages. He argues there is no evidence to support the argument the Tri-Modal truck suffered any mechanical failure that would warrant parking on the side of a freeway.
Vartazarian explained to jurors how the driver of the vehicle that collided with the Tri-Modal truck, Sergio De La Torre, swerved to the right to avoid another vehicle that he claims cut him off.
"If the Tri-Modal tractor trailer was not present on the shoulder at the time of the incident, Sergio De La Torre would have veered onto the shoulder and safely returned back to the freeway without incident," Vartazarian stated in court filings.
De La Torre survived the accident and is not a party in the current case.
Vartazarian claims Jorge Garcia's body was found with his pants unzipped, and that an autopsy showed he had no urine in his bladder, which he suggested would only be possible if he had recently urinated.
Tri-Modal's attorney, Edward Leonard of Harrington Foxx Dubrow and Canter, told jurors that Jorge Garcia acted safely, and that dispatch records prove he reported he was pulling off the freeway to inspect a mechanical problem.
He suggested that at the time of his death, Jorge Garcia was actually underneath the truck performing an inspection, and that the impact forced the truck to roll forward, crushing him under the tires. He blamed the collision on De La Torre's supposed wreckless driving.
Both parties are expected to rely heavily on expert testimony and virtual accident reconstructions in a trial before Los Angeles County Superior Court Judge Peter Hernandez that will likely take weeks to complete.
The full proceedings will be webcast and recorded gavel-to-gavel by CVN.
The case is captioned Karen Garcia v. Tri-Modal Distribution Services Inc., case number BC536714 in Los Angeles County Superior Court.