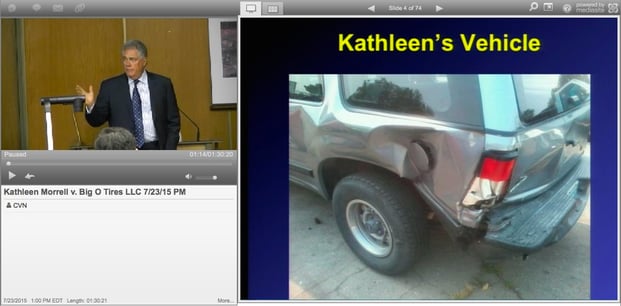 Plaintiff's attorney Robert Vannah shows jurors an image during his closing argument of Kathleen Morrell's car after it was struck by by another vehicle with faulty brakes serviced by Big O Tires. Click here to see video from the trial.
Reno — A Nevada state court jury smacked the largest franchiser of tire retailers in North America, Big O Tires LLC, with a $684,000 verdict on Thursday, after the company admitted to performing a faulty brake job that caused a serious car accident.
Jurors deliberated for less than a day following a four-day trial before awarding plaintiff Kathleen Morrell what her attorney Paul Marrero of Golightly & Vannah claims is an amount over 10 times larger than Big O's highest settlement offer of $60,000. The company admitted liability midway through the trial, according to Marrero, so the jury only deliberated over the amount of damages Morrell's alleged injuries justified after she was rear-ended in 2013 by a car serviced at Big O.
Morrell claims she suffered neck injuries in the collision that require her to undergo procedures called nerve ablations, where nerve tissue is destroyed using soundwaves to block pain. The nerve eventually regenerates and requires a new ablation, and if those procedures cease to be effective spinal fusion surgery can become necessary, Marrero's co-counsel Robert Vannah argued to jurors.
According to Vannah, Gary Mackenzie plowed into the back of Morrell's car at 35 miles per hour while driving on Interstate 80 to pick up his wife from work after getting his brake pads replaced at Big O earlier in the day.
"He hits his brakes, and there's nothing," Vannah said, noting that within seconds of the crash Mackenzie exited his car and told Morrell his brakes failed, and that he repeated the same statements to police officers that arrived at the scene moments later.
The verdict is substantially less than the nearly $3 million that Vannah had asked the jury to award during his closing argument. Vannah requested $2.25 million for Morrell's past and future pain and suffering but the jury, apparently swayed by defense arguments that the accident didn't significantly impact Morrell's quality of life, only awarded $140,000.
The remainder of the verdict was allocated for Morrell's past and future medical expenses, according to a Courtroom View Network webcast of the trial.
Jared Green of McCormick Barstow Sheppard Wayte & Carruth LLP, representing Big O, told jurors that Morrell had lived without pain for most of the 18 months following the accident and that there was no reason to think that would change in the future. He noted that Morrell was not initially diagnosed with any serious injuries following the wreck, and that she only began a series of lengthy chiropractic treatments after consulting with attorneys at Golightly & Vannah.
"You can't just come up with a number and throw it out there," Green said, asking jurors to calculate damages based on Morrell's testimony and not her attorney's arguments. "It's got to be based on some kind of tangible evidence."
Mackenzie was dismissed from the case once Big O admitted liability, but before that occured his attorney, David Harsh, told the jury that Mackenzie's brakes failed because the brake fluid and plates had been corroded and warped by excessive heat. He claimed the brake fluid hadn't been sufficiently "bled" or purged of air bubbles, which can greatly reduce a hydraulic brake system's effectiveness.
On the morning of the accident, Mackenzie had his brakes replaced but soon noticed thick black smoke bellowing from his left rear tire due to excessive friction, according to Harsh. He drove back to Big O, where the rear brake pads were replaced, but not the accompanying rotors, Harsh claimed. He argued that Big O's employees again failed to adequately bleed the brakes, and that the remaining fluid was no longer effective due to being boiled when the first replacement brake pads overheated.
"Just because you rear-end a vehicle doesn't mean you did anything wrong," Harsh told jurors.
This was the first case taken to a jury trial in Reno by Golightly & Vannah since the Las Vegas-based firm opened an office in Washoe County, Marrero told CVN.
"We're all very satisfied with the outcome," he said.
Attorneys for Mackenzie and Big O did not respond to requests for comment.
Morrell is represented by Robert Vannah and Paul Marrero of Golightly & Vannah.
Big O Tires is represented by Jared Green of McCormick Barstow Sheppard Wayte & Carruth LLP.
Gary Mackenzie is represented by attorney David Harsh.
The case is Kathleen Morrell v. Big O Tires LLC., et al., case number CV14-00380 in Nevada's 2nd Judicial District Court for Washoe County.
E-mail David Siegel at dsiegel@cvn.com
Click here to check our more product liability trials in CVN's one-of-a-kind online video archive.