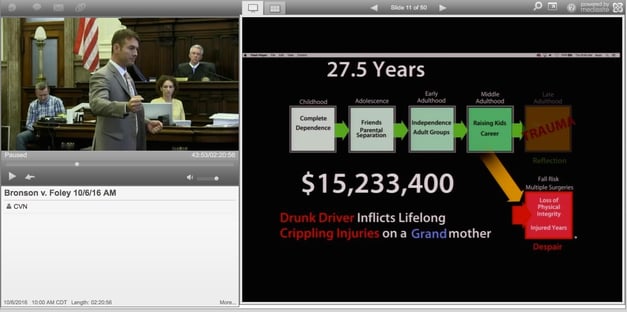 Plaintiff's attorney Nick Rowley delivers his closing argument. Click here to see video from the trial.
Des Moines - An Iowa state court jury on Friday awarded $4 million to the aunt of former Olympic gold medalist and reality television star Shawn Johnson East, after she was struck by a drunk driver.
The panel said Cheryl Bronson, 58, should receive $3.5 million in compensatory damages and $425,000 in punitive damages for injuries she sustained after Ryan Foley, 25, struck her vehicle in 2015. Foley pleaded guilty to criminal DUI charges in January and had admitted liability in Bronson's civil case, leaving the jury to determine just the amount of damages she should receive.
Bronson's attorney Nick Rowley had asked for up to $25 million in damages, which would have been a record-shattering amount for an Iowa state court lawsuit. He argued that the accident left Johnson with fractured bones and a damaged knee that may never completely heal and would require lengthy courses of physical therapy.
Foley's attorney suggested Bronson's injuries were not as severe as Rowley represented, and that an award of $450,000 would be reasonable compensation for the accident. The three-day trial was webcast gavel-to-gavel by Courtroom View Network.

The trial featured testimony from Olympic gymnastics champion Shawn Johnson East, who described to jurors how Bronson's injuries had severely impacted her quality of life. The former "Dancing with the Stars" champion recalled how during her wedding to NFL star Andrew East, her aunt needed a golf cart to get around and was unable to dance herself.
"She was superhuman. She was always the toughest. She was always the big sister. She was always taking care of everyone," Johnson East said of her aunt from the witness stand, according to a CVN webcast of the trial. "And I know Cheryl can be stubborn sometimes and not want to ask for help, but I noticed after she kind of has to put that aside because she has to ask for a lot of help."
Rowley told CVN that he hoped for a larger verdict, but that the amount awarded still far surpassed the defense's initial settlement offer of $220,000, which they later upped to $450,000 after the case's final pretrial status conference.
"It's a big win for our client and Iowans," Rowley said, noting the award was especially significant in the context of stipulated medical expenses totaling just $50,000. He said the jury reached its verdict based on a desire to find a compromise.
"There were jurors who wanted to give a lot more," he said.
Rowley told CVN there will not be an appeal from the defense, as Foley's insurer agreed to pay the $3.5 million compensatory verdict in full within 10 days after Rowley agreed not to pursue the $425,000 punitive verdict.
An attorney for Foley and his father Thomas, who loaned him the car used in the accident and a co-defendant in the case, did not respond to a request for comment.
The award adds to a string of multimillion victories secured in 2016 by Rowley, an Iowa native who now bases his practice in California and is known for aggressive and sometimes unconventional courtroom tactics.
In June Rowley landed a $10.5 million settlement during a trial over a high school student's traumatic brain injury suffered during a football rally, which saw Rowley don a chicken suit during his closing arguments to show jurors the type of mascot costume his client wore at the time.
The previous March, he convinced jurors to award $8.28 million to the family of a Vietnamese immigrant who died after being rear-ended by a Los Angeles County MTA vehicle.
Rowley told CVN that Bronson's award, which follows a $1.6 million verdict he secured at another Iowa trial in August, should warn insurance companies to begin valuing the losses of Iowans much higher than they have previously in similar cases.
"You only get big verdicts if you ask for them," he said.
Bronson was represented by Nick Rowley of Carpenter Zuckerman & Rowley LLP, and by local Iowa attorneys Travis Burk of Hope Law Firm PLC and Dominic Pechota of Trial Lawyers for Justice.
The Foleys were represented by Sharon Soorholtz Greer of Cartwright Druker & Ryden Law Offices.
The case is Bronson v. Foley, number 05771 LACL133402 in the 4th District Court of Iowa for Polk County, before Judge Larry McLellan.
Email David Siegel at dsiegel@cvn.com