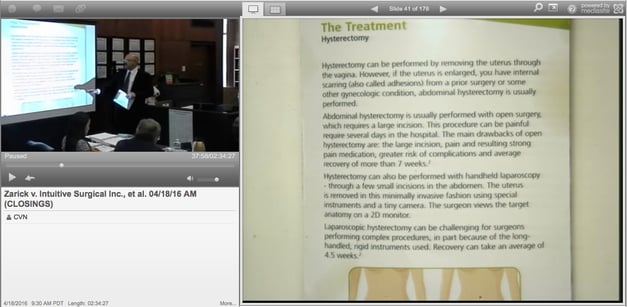 Plaintiffs' attorney Dr. Francois Blaudeau delivers his closing argument. Click here to see video from the trial.
San Jose - Intuitive Surgical Inc. struck a deal on Wednesday in California state court to settle a $30 million lawsuit filed by a woman who claimed one of its allegedly defective surgical robots severely injured her, after her doctor used it to perform a hysterectomy.
A Santa Clara County jury was in its third day of deliberations following a two-week trial when the resolution was announced in court. The terms of the settlement were not disclosed, but attorneys for plaintiff Michelle Zarick told Courtroom View Network that the outcome could help resolve up to 20 other similar pending lawsuits against Intuitive, including one set to go to trial in May.
"Intuitive and I will probably re-examine whether that trial needs to go," attorney Mark Geragos told CVN, who said he was "thrilled" with the settlement. "Intuitive has got to make a choice now."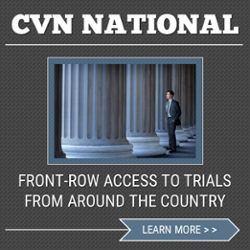 Zarick sued Intuitive after undergoing a hysterectomy in 2009 performed with one of the company's Da Vinci surgical robots, which allows surgeons to use joystick-like controls to manipulate robotic arms that advocates of the technology say can perform less invasive procedures than traditional surgery. Zarick's lawsuit claimed the robot's scissor attachment allowed electricity to surge through the device and injured her bowl, which later protruded through her vagina and required extensive emergency surgery to repair.
Her attorneys had originally planned to pursue up to $300 million in damages, according to pretrial filings, but ultimately they asked the jury to award $30 million during closing arguments. Intuitive attributed Zarick's injuries to having sex with her husband sooner than her doctor advised and from her husband's supposed physical abuse.
Intuitive is considered the industry leader in robotic surgery, and while the Da Vinci devices have become increasingly popular since being approved for use by federal regulators in 2000, they have recently come under greater scrutiny after a growing number of adverse outcomes in recent years, including at least 70 deaths associated with the devices since 2009.
While the Da Vinci device remains on the market and was used in over 600,000 operations in 2015, the electrified scissors that allegedly injured Zarick have since been replaced.
Intuitive spokesman Justin Higgs told CVN the company respects the confidentiality of the settlement but presented "strong" scientific evidence in support of their case during the trial.
"The company stands behind our products and the work our employees do to advance high-quality minimally invasive surgery," Higgs said in an email.
Zarick's case was only the second to go to trial over the allegedly defective version of the Da Vinci device. It was also just the second time a civil case has been webcast gavel-to-gavel in Santa Clara County. Judge Mark Pierce told a local newspaper that he allowed video coverage of the trial because "people have a right to know."
An earlier trial in Washington State, which CVN also webcast and recorded, ended in a defense verdict in 2013.
Geragos' co-counsel, Dr. Francois Blaudeau, told CVN that Intuitive's attorneys should be commended for the work they did at the trial. Intuitive was represented by Allen J. Ruby of litigation powerhouse Skadden Arps Slate Meagher & Flom LLP, who also successfully defended the company in the Washington State trial.
"It was a hard fought case," said Blaudeau, who also holds a medical degree.
Blaudeau said that surgical robots can be helpful tools, but that Intuitive had a responsibility to recall and repair their Da Vinci devices sooner than they did. He said while he hopes the company is now more "open-minded" about settling other Da Vinci-related cases he is also prepared for additional trials if necessary.
"Mr. Geragos and I have our trial team set, and we will be rocking and rolling," he said.
The case is Zarick v. Intuitive Surgical Inc., case number 1-12-CV-237723, in the Superior Court of Santa Clara County.
E-mail David Siegel at dsiegel@cvn.com.