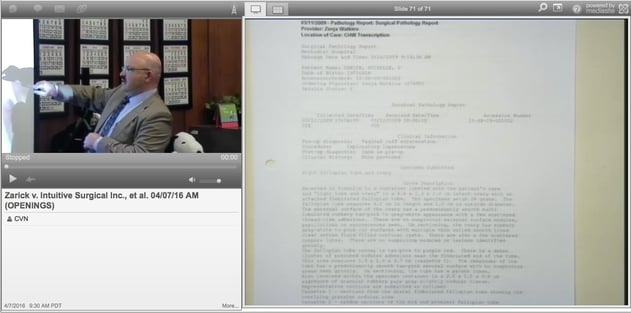 Plaintiffs' attorney Francois Blaudeau reviews Michelle Zarick's medical records during his opening statement. Click here to see video from the trial.
San Jose — A potentially $300 million product liability trial began Thursday in California state court in a lawsuit filed against Intuitive Surgical Inc. by a woman who claims the company's "Da Vinci" robotic surgical system caused her severe internal injuries after her doctor used it to perform a hysterectomy.
Plaintiff Michelle Zarick's case is one of the first to go to trial against Intuitive, which describes itself as "the global leader in robotic-assisted minimally invasive surgery." She alleges that five weeks after a supposedly botched operation in 2009 using the increasingly popular Da Vinci system, her intestines protruded through her vagina, and she was was rushed into emergency surgery that required a hip-to-hip incision.
At trial Zarick, 44, and her husband Ryan will seek up to $50 million in economic damages and $250 million for emotional distress, according to a settlement statement filed on the couple's behalf. The full proceedings are being webcast and recorded gavel-to-gavel by Courtroom View Network.
Zarick's complaint alleges that the Da Vinci's electrified scissors, which are used to cut and cauterize tissue, are not adequateley insulated, and that electricity can surge through the device and cause injury to surrounding tissues, including the bowel.
The couple's attorneys have stated in court filings that the invasive second operation left Zarick in extreme pain, damaged her rectal muscles and permanently diminished her sex life. They claim Intuitive failed to adequately test the Da Vinci system before marketing it to doctors, and that the company withheld information about the robot's risks from the U.S. Food & Drug Administration.
"Ms. Zarick was sold on the hysterectomy based on the representations the Da Vinci robot was safe and the recovery time was rapid," her attorneys wrote in a pretrial statement. "Ms. Zarick was not told that the device was determined to be dangerous by the FDA and that top ISI executives were on notice that the device was causing a health crisis throughout the country."
The FDA cleared the Da Vinci system for adult and pediatric use in 2000, but in 2013 the agency began an investigation following a spike in so-called "adverse events" associated with the system's use. At least 70 deaths have been linked to the Da Vinci system since 2009, according to Bloomberg.
Intuitive, which generated most of its $2.2 billion in revenue in 2012 from surgical robot sales, has argued in court filings that the Da Vinci system isn't defective, and that Zarick's intestinal prolapse was the result of engaging in sexual intercourse with her husband sooner than her doctor advised and from his physical abuse.
In a March filing, Intuitive asserts that Zarick's surgery was a success, but that she had sex with her husband five weeks after the procedure instead of the six to eight weeks her doctor recommended. The company claims Zarick swore under oath that following her initial operation, her husband "hurt me so badly I ended up in the hospital for a week due to recently having major surgery."
An Intuitive spokesman told CVN the company had no comment beyond what they planned to present in their opening statement, and an attorney for the Zaricks declined to comment on the trial.
During operations performed with surgical systems like the Da Vinci, a surgeon sits at a console near the patient and looks into a viewfinder while manipulating joystick-like controls that move the device's robotic arms. Advocates of the technology claim it allows for less invasive surgery and faster recovery times than traditional procedures, and the Da Vinci system was reportedly used for over 200,000 operations in 2012 alone.
Given the high stakes in the case, both sides are bringing substantial legal firepower to Judge Mark Pierce's Santa Clara County courtroom. The Zaricks are represented by, among others, Mark Geragos, a well-known trial attorney who has represented Michael Jackson and Winona Ryder. Intuitive is represented by Allen J. Ruby of litigation powerhouse Skadden Arps Slate Meagher & Flom LLP, who successfully led the defense in another trial related to the Da Vinci system that CVN recorded and webcast in 2013.
In that case a Washington State Court jury ruled 10-2 in favor of Intuitive after a patient supposedly injured by the Da Vinci system during prostate surgery accused the company of failing to adequately train the surgeon who performed the operation.
Dozens of similar suits are pending against Intuitive in state and federal courts throughout the country. The next trial after the Zaricks' is set to begin in Santa Clara County on May 16. The current trial is expected to take two-to-three weeks to complete.
The Zaricks are represented by Mark Geragos and Ben Meiselas of Geragos & Geragos, and by Francois Blaudeau of Riley Jackson PC.
Intuitive is represented by Allen Ruby and Sheryl Leung of Skadden Arps Slate Meagher & Flom LLP.
The case is Zarick v. Intuitive Surgical Inc., case number 1-12-CV-237723, in the Superior Court of Santa Clara County.
E-mail David Siegel at dsiegel@cvn.com.