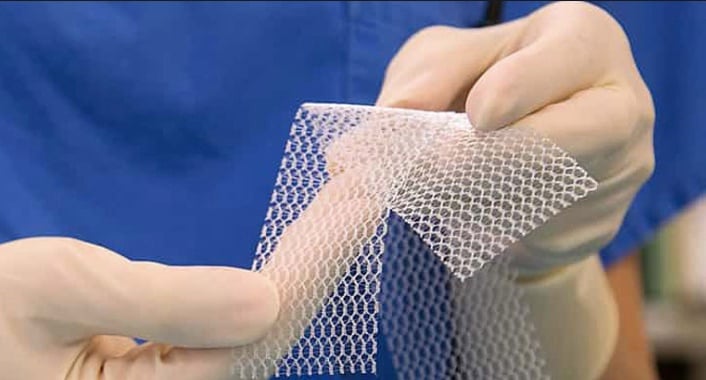 stock image of a pelvic mesh implant
San Diego, CA - The first lawsuit filed by a state attorney general over the safety of pelvic mesh implants goes to trial Monday in California state court, with Johnson & Johnson facing accusations that its Ethicon unit withheld information about risks associated with the devices from patients and doctors.
Numerous transvaginal mesh-related lawsuits have gone to trial since 2012, resulting in a mix of plaintiff and defense verdicts, but the plaintiffs in each of those cases were individual women who claimed they suffered severe side effects after having the devices surgically implanted to treat medical conditions like stress urinary incontinence and pelvic organ prolapse.
Those cases involved product liability claims, but the lawsuit brought by California Attorney General Xavier Becerra's office seeks damages under California's unfair competition and false advertising laws and stems from the sale in the state of over 42,000 Ethicon pelvic mesh devices, which J&J maintains are not defective, from 2008 to 2014.
The trial will take place without a jury before San Diego Superior Court Judge Eddie Sturgeon, and the proceedings will be webcast gavel-to-gavel by Courtroom View Network.
Thousands of women who received mesh implants manufactured by Ethicon and other companies not named in the current case allege the devices left them suffering from chronic pain, persistent infections and sexual dysfunction. Their claims against Ethicon argue the company knew the chemicals in the mesh could cause an adverse reaction when exposed to human tissue.
CVN recorded a number of those trials in states throughout the country, and gavel-to-gavel video of those proceedings can be accessed by CVN subscribers.
California's lawsuit accuses the company of failing to adequately inform the public of those supposed risks.
"J&J deceptively marketed its surgical mesh devices as safe with minimal risk when in fact these devices exposed women to a host of dangerous complications," the AG's office writes in their complaint. "J&J did this despite being urged by its own medical advisers and employees to warn doctors and patients of pain with intercourse, sexual dysfunction, and impact on quality of life."
Ethicon and other mesh manufacturers have argued their devices helped thousands of women and offered a safer alternative to invasive surgeries with large incisions that could themselves present a host of life-threatening side effects. They frequently argue the side effects women attribute to mesh implants are actually the result of other pre-existing conditions.
While continuing to defend the safety of their mesh devices in court, Ethicon and other mesh manufactures have voluntarily withdrawn their pelvic mesh products from US markets in recent years.
In April the U.S. Food & Drug Administration ordered the only two companies still selling mesh products for transvaginal use, Boston Scientific and Coloplast, to halt their distribution citing safety concerns.
Two weeks prior to that decision, a lawsuit brought by Washington State similar to the pending California action settled on the eve of trial, with Ethicon agreeing to pay $9.9 million while not having to admit any wrongdoing.
The California AG's office is relying on a team of in-house attorneys at the upcoming trial, expected to take nearly two months to complete.
Johnson & Johnson and Ethicon, which unsuccessfully attempted to bar the news media from filming the public trial proceedings, are represented by attorneys from O'Melveny & Myers LLP and Covington & Burling LLP.
The case is captioned The People of the State of California v. Johnson & Johnson, case number 37-2016-00017229-CU-MC-CTL in the Superior Court of the State of California, County of San Diego.
Email David Siegel at dsiegel@cvn.com