Because we've been asked about our earlier, Series 1 Engle Trading Cards, we'll periodically revisit the subjects of our first set of cards and provide quick updates on their Engle litigation history. This week's flashback checks in on two attorneys who are revisiting their 2010 face-off in Andy Allen v. R.J. Reynolds with the case's retrial, which began earlier this month.
---
Card # 9 Keith Mitnick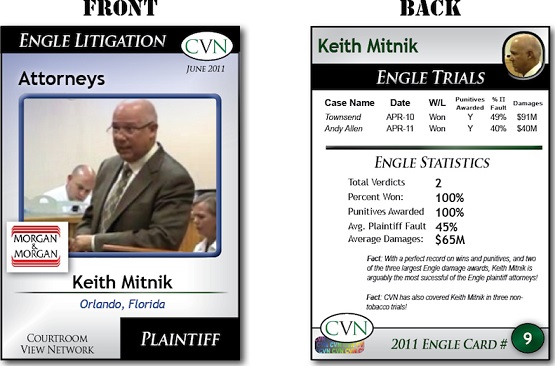 Morgan & Morgan's Keith Mitnick hit a rough patch on CVN Engle trials since we featured him in 2011, going on a 3-case losing streak through last year. However, 2014 has been a strong Engle year for Mitnick, as he gone undefeated in two trips to the courthouse. February's Goveia v. R.J. Reynolds yielded a $5.35 million verdict, while this month's retrial in Allen resulted in a $3.04 million compensatory award with findings on punitives still to come. Notably, juries have found punitive liability in all of his CVN Engle wins.
---
Card #20 Dennis Murphy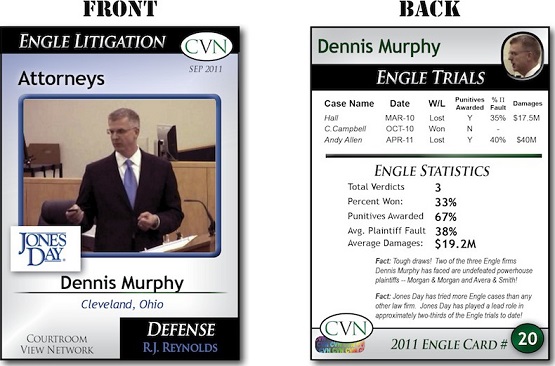 Since the release of his card in 2011, Jones Day's Dennis Murphy has gone 1-4-1 in Engle cases, including his most recent loss in Phase 1 of Allen. Importantly, however, this week's $3.04 million compensatory award in the Allen retrial cut the $6 million compensatory award in the case's first tilt nearly in half, with punitives yet to be determined.
---
Be sure to come back next week for our newest Engle Card release.
Not a subscriber?
Sign up for a seven-day free trial of our expansive tobacco litigation video library.