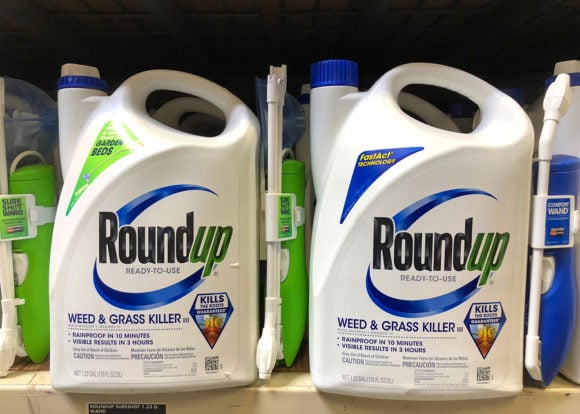 stock image of Roundup products
Bayer-owned agrochemical giant Monsanto faces the first trials over use of its popular Roundup herbicide in Florida and the City of St. Louis starting next week, and both trials will be webcast gavel-to-gavel by Courtroom View Network.
Monsanto, acquired by Bayer in 2018, faces thousands of lawsuits nationwide alleging that the chemical glyphosate, a key ingredient in herbicides like Roundup, causes cancer. However after initial trial victories by plaintiffs, Monsanto has since prevailed in a string of consecutive Roundup trials and pulled out of a proposed mass settlement.
With the likelihood of numerous additional Roundup trials now substantially higher both of these trials will be closely watched by both plaintiff and defense attorneys. An initial trial in Florida could deliver a key verdict in a state where herbicide use is particularly widespread, and the City of St. Louis is both a critical jurisdiction for mass tort cases generally and just miles from Monsanto's former United States headquarters.
CVN will provide live and on-demand video coverage of both trials from the start of opening statements forward. CVN recently provided similar coverage of the first Roundup trial in St. Louis County, where Monsanto secured a defense verdict.
Plaintiffs in both the Florida and Missouri cases claim they developed cancer due to prolonged exposure to Roundup. Their attorneys argue Monsanto knew for decades that glyphosate posed a serious cancer risk but withheld that information from the public to protect sales of popular product.
Monsanto maintains there is no direct link to between glyphosate exposure and cancer, and that the scientific evidence plaintiffs rely on to make those claims is fundamentally flawed. The company argues the wave of lawsuits it faces nationwide are driven by attorneys seeking to collect large verdicts and not any actual risk to consumers.
Monsanto plans to halt sales of Roundup for residential use in 2023 but stated the move is being made "exclusively to manage litigation risk and not because of any safety concerns" in a statement announcing the decision. Roundup will remain on the market for agricultural use.
The plaintiff in the Florida trial, Richard Wyzik, is represented by Juan Bauta and Daniel DiMatteo of The Ferraro Law Firm, and Monsanto is represented by Anthony Upshaw and Melissa Alvarez of McDermott Will & Emery.
The trial will take place before Broward County Circuit Judge Patti Englander Henning.
The plaintiff in the Missouri trial, Nathanial Evans, is represented by David Wool of Wool Trial Law LLC along with D. Todd Matthews and Christina Hutchins of Bailey Glasser LLP. Monsanto is represented by numerous attorneys from Bartlett Beck LLP, Thompson Coburn LLP and Hollingsworth LLP.
That trial will take place before Judge Michael Mullen in Missouri's 22nd Judicial Circuit.
Both trials are expected to take numerous weeks to complete, and CVN's live and on-demand coverage will take place for the duration of the proceedings.
E-mail David Siegel at dsiegel@cvn.com